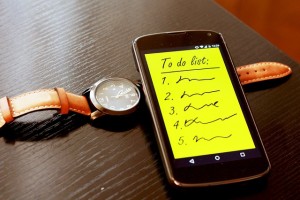 I recently read an article about getting started and why it is difficult to do even when it is a task that you actually want to accomplish.  Many of my clients encounter difficulties around this concern, even when they know they are making a positive change for themselves.  The akrasia effect dovetails nicely with what I notice with my clients and what I already encourage them to do.
If you want to move beyond difficulty with getting started with something, there are three behaviors you can alter to create progress:
Plan ahead for how you want your actions to look.

If you are trying to lose weight and you know you tend to overeat, buy prepackaged food or make your own food and place it in one serving sized containers.

Make the actual starting easier

It is easier to start a project and get momentum for it if you can make smaller steps. Break larger steps down into more manageable ones.

Schedule your behaviors

Planning ahead with certainty makes it more likely that you will do something than if you say you will get to it vaguely sometime in the future.
Being able to do these three behaviors will make it more likely that you will be able to accomplish what it is you set out to do.  Sometimes one of these may be easier than the other two, so go with what works best for you.  I know that I tend to make huge steps on my to-do lists, so I've gotten used to breaking them up into more manageable steps that make me feel that I am accomplishing a lot.  This feeling helps me stay motivated to continue.